Multi-cloud deployments are becoming the top architecture of choice among SMEs as they mix and match cloud services from multiple vendors to meet disaster recovery goals, avoid vendor lock-in, and withstand regulatory pressures . In fact, according to the Flexera 2020 State of the Cloud Report released at the end of April, 93% of the 554 participating enterprises reported the deployment of a multi-cloud strategy with top vendors Amazon Web Services (AWS), Microsoft Azure, and Google Cloud. We dive into multi-cloud deployment strategy this week so that you can Live Easy, across the clouds.
The Multi-Cloud Deployment Strategy
A multi-cloud deployment involves the use of more than one cloud service from more than one cloud vendor - public or private. This allows for greater scalability and flexibility, making it easier for businesses to respond to the needs of their various customers with features only different cloud service providers can offer.
Achieving this level of collaboration and integration of services from cloud vendors with your company's custom application involves first buying the vendor's app, then hosting that app on the vendor's proprietary public cloud. This way, both apps can scale with demand.
To master this strategy down the line, all adopted technologies should be cloud native, "deployed as microservices, packaged in containers and managed on elastic infrastructure", says NuoDB CTO Ariff Kassam on Forbes. Putting it all together then involves monitoring four key issues:
Lock-ins: Avoid being tied to one vendor by choosing components that are cloud-native and designed to operate across multiple cloud platforms.
Data management complexity: Multi-cloud deployments require coordination, with data transfers between clouds, latency concerns, and consistency guarantees.
Looking beyond cost: Keep in mind performance, security, regulations, and what the deployment environment can handle.
Automation: Stay open to a DevOps culture to automate as many processes as possible and accelerate time to market
With these concerns addressed and accounted for, the right balance of isolation and integration can be achieved between the data center and the cloud to properly support cloud and legacy infrastructure for your SME.
The Best of Breed approach, for example, involves first selecting a vendor that serves as the center of cloud operations where the main identity/security designs live. At the same time, the door is then open to reach across to other cloud vendors for specific services or features unavailable with the primary vendor. In other words, your enterprise can get best of each vendor to offer all the features your clients need.
As Red Hat outlines, multi-cloud deployments with both public and private clouds are surging among SMEs looking to improve security and performance by managing an expanded portfolio of environments with an approach like the Best of Breed. Improving security is then about simply not putting all your eggs in one basket - the foundation of multi-cloud strategies.
Multi-Cloud vs. Hybrid Cloud Deployment
Though both involve cloud collaboration, multi-cloud and hybrid-cloud deployments are not the same. In short, A multi-cloud deployment involves multiple cloud deployments of the same type (public or private), from different cloud-service providers. A hybrid cloud on the other hand, involves the collaboration of multiple deployment types, both public and private. This makes it ideal in continuous workload migration, for example, when apps and workloads need to flow seamlessly between on- and off-premises environments so they can be available anytime, anywhere.
With the right multi-cloud and hybrid cloud strategy, SMEs can combine their on-premises deployments with both private and public clouds to strategize the movement of business-critical apps to the right place at the right time. It's really about working together.
Trends in Multi-Cloud Deployment and Cloud Services
Over the years, enterprise clouds have developed a pay-as-you-go model which lets them scale services, apps, and cloud instances up and down with demand. Workloads now are also more portable and data is more mobile than ever. Consequently, the Flexera 2020 State of the Cloud Report found that IoT and container-as-a-service are currently the top growing cloud services, as outlined below.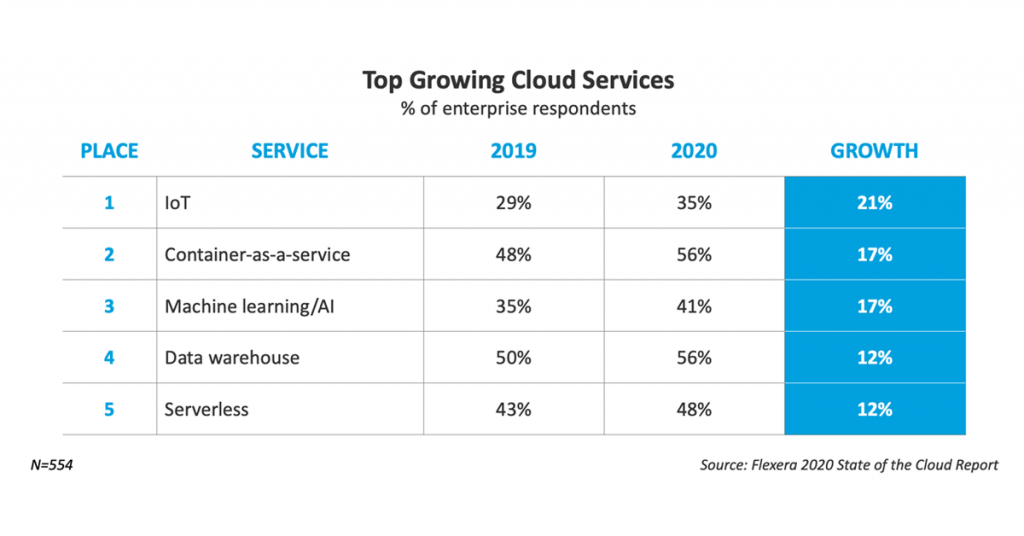 Container-as-a-service offerings from those top three cloud providers - AWS, Azure, and Google Cloud - are all seeing growth as SMEs plan their multi-cloud deployments leaning heavily on containers. Among the top contenders for container services are Docker and Kubernetes, with 65% and 58% usage rates, respectively, among the Flexera study enterprise participants. In fact, 51% of enterprises reported the expansion of containers as a top cloud initiative for 2020, shown below along with the optimization of existing cloud infrastructure (73%), and the migration of workloads to the cloud (61%).
These trends have lead the predictions that enterprises will increasingly turn to hyperscalers and other niche providers for their cloud services so that they can diversify their services and deals, while avoiding vendor lock-in.
In the meantime, COVID-19 is still upon us and is having its own effect on cloud service trends with 47% of participating SMBs and enterprises reporting a higher cloud usage than expected due to the pandemic. With the urgent push for remote work, these percentages will likely continue to rise.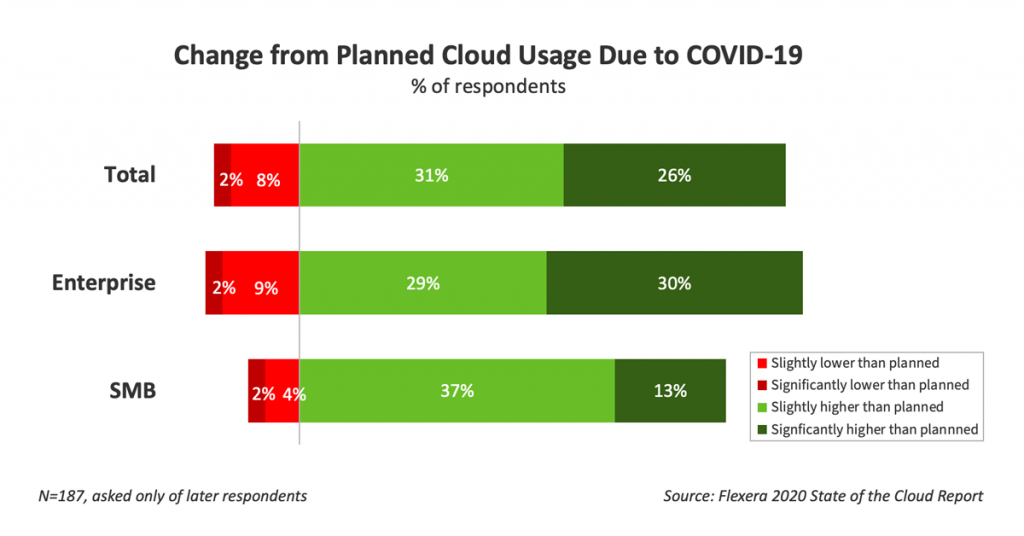 With our quality and expertise, we're keeping up with these trends so that you can Live Easy. At LeCiiR, we offer cloud services tailored to your enterprise needs whether you're looking to deploy a multi-cloud strategy, seeking out collaborative partners for your cloud infrastructure, or in need of a primary cloud service provider to serve as the base to your growing cloud network. For questions on our services, this topic or any others, don't hesitate to contact us and leave your comments.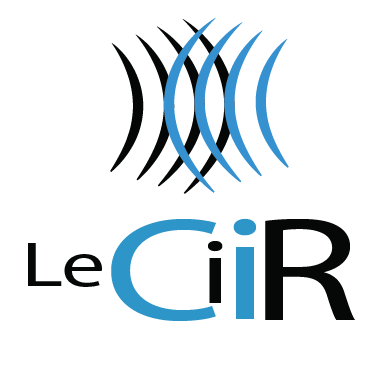 References
Ariff Kassam, It's Time To Accelerate Your Hybrid Or Multicloud Strategy. March 2020.
CloudBolt, 5 Enterprise Cloud Strategy Trends for 2020 and Beyond. 2020.
Flexera, Flexera 2020 State of the Cloud Report. April 2020.
Larry Dignan, Multicloud deployments become go-to strategy as AWS, Microsoft Azure, Google Cloud grab wallet share. April 2020.
Neal Mathews, Hybrid Cloud vs. Multi-cloud: What's the Difference, and Why Does It Matter? 2020.
Red Hat, What is multicloud? 2020.